Helical inline geared motor Benefits:
1. OEM
2. with warranty
3. Long service life
4. Strong capacity of being overloaded.
5. percise division , wide selection range. 
6. All- purpose use, convenient, low cost maintenance.
Precise division and wide selection range for transmission ratio.
7. High efficiency, low energy consumption, excellent function, small vibration, and low noise.
8. Hr series gear can match all kinds of motors/mounting position/structure projects.
9. Compact design, small volume, nice appearance and strong capacity of being overloaded.
10. With small volume, helical gear units achieves the output torque range of 69-18000NM, and output power as much as 200 KW.
11.Using new seal device-good protection , strong adaptability, capable of working continually in corrosive or damp environment.
Helical inline geared motor Features
1,highly standard modular designed according to international standard;
2,high precision, high efficiency, fine classification in transmission ratio;
3,wide range, large transmission torque,
4,reliable performance, low noise,
5,flexible installation, and convenient use and maintenance.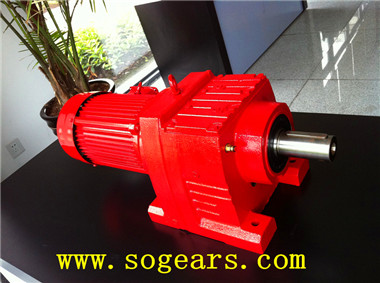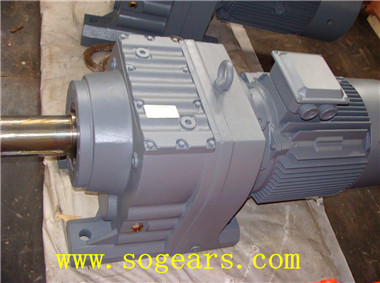 coaxial gearbox with electric motor Application:
It is applied to many industrial area, such as Metallurgical, mines, lifting, transportation, petrochemical, construction, textile, pharmaceutical, food, environmental, light electric, plastic machine, paper, parking equipment etc. Especially for Light Industry.
More information of R series helical gearbox:
coaxial gearbox with electric motor Mounting type:
R(-)

RF

RS

RFS

RM

 Foot-mounted

Flange-mounted

Foot-mounted and 
Shaft In-put
Flange-mounted and 
shaft Input

Specially for stirrer



coaxial gearbox with electric motor Material:
| | |
| --- | --- |
| gearbox body | modular cast iron with high strength |
| gear and axis | alloy steel products with hight quality |



Helical inline geared motors Processing method:
| | |
| --- | --- |
| Materials | forging, grinding |
| End Products | heat treatment |